Otto Veibel
Jan B. Kjeldsen, translation Shirley Parker



Otto Veibel, along with Ulrich Birch and Willy Jensen, were the first Danes to fly a glider for more than half an hour. This took place over the cliffs at Tisvilde, north Zealand, on Maundy Thursday, 9 th April, 1936.
Otto was at that time 30 years old and the father of two children.
He was from an early age keen on the idea of flying, and went to Germany for training, where he acquired a B-certificate. He was co-founder of the Danish Gliding Association in 1934, and was at that time on the sports committee of the Danish Motor- and Glider-flying Association.
The pictures shown here are undated, but thought to be from around 1935. It appears that he and his father constructed a Stamer & Lippisch, but whether it was his own or the club's is not known.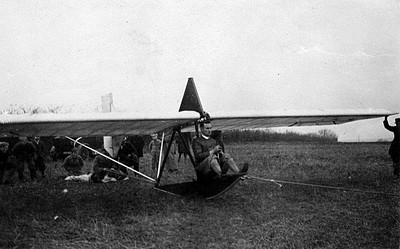 Otto Veibel on his Stamer & Lippisch
Otto Veibel was born in Lyngby in 1905, the son of Ingrid and Theodor C. Petersen, an electrical contractor who for many years had a shop in Lyngby Square and later at 49 High Street, which his son, who was also qualified, took over after his father's death in 1948. He built up a good business, but due to failing health sold it around 1961 and bought a seaside hotel in Karrebæksminde, which he and his wife modernised.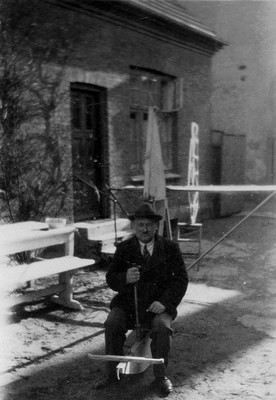 Otto's father on the Stamer & Lippisch
Otto Veibel was 57 years old. On 14 th February, 1963, while on his way to visit friends in Falster, he died when his car skidded on the icy road and crashed into a concrete pillar on the bridge over Fuglebæk Canal. It was later found that the car's tyres were worn and there was no tread pattern on them.
The hotel was later sold to the Gastronomic Association and adapted as a training school for prospective sandwich makers. Now it has been converted into private housing association apartments.
49 High Street, Kongens Lyngby

The pictures were kindly provided by Shirley Parker, Otto Veibel's niece, who was born and raised in England.
Three times half an hour in the air over Zealand's coast
FLYV, May 1936, translation Shirley Parker
The achievement of three Danish glider pilots
On April 9 th three Danish glider pilots set a fine record over the cliffs at Tisvilde. With the glider "Grunau Baby", Ulrich Birch, Otto Veibel and Willy Jensen each undertook a half-hour flight, and "FLYV" gives Willy Jensen's description of the three pilots' brave achievements.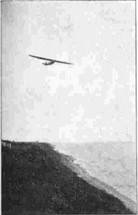 Tisvilde, April 9 th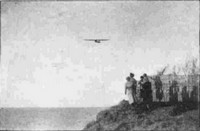 Over the cliffs at Tisvilde
Danish gliding is no longer fiction, it is a fact. The Danish glider pilots had passed a milestone and reached a target that had been set for many years, a target that had cost many disappointments and financial sacrifices, and it was only dogged determination, together with belief that it could be done, that resulted in the achievement which today stands as the best in the north.
On April 9 th , 1936, Maundy Thursday — surely the day that all Danish glider pilots will remember in the future — we went to the usual practice field at Lundtofte, knowing that there was a north-west wind of the right strength for an attempt to be made at gliding over the north coast of Zealand. We were sceptical, as one is after so many failures, but around mid-day Ulrich Birch and two friends decided to take the opportunity to make an attempt.
We were lucky that day; a 60 km. motorcycle ride without mishap, engines started with no trouble and the weather held with a constant north-west wind at about 7 metres per second. This time it couldn't fail. We had said that so often, but this time it was true. At 5 p.m. we launched Ulrich Birch and, after having reached a suitable height, released him. Then came again those thrilling seconds where one stands on the ground with bated breath, fists clenched as though straining every muscle in the body, willing the glider to ascend. After descending to about 40 metres above the cliff, the plane sank no further but continued along the coast as far as the eye could follow it. Three minutes later it came sailing back over our heads, steadily following the coast in a sideways gliding attitude. Ten times the machine became a small dot in the distance. Twenty times we heard the monotonous vibration in the air over our heads each time it passed.
Half an hour had gone by since the starting time when Birch indicated that he wanted to land. The landing followed smoothly at 5.36 – 34 minutes in the air without an engine, a splendid result by Danish standards and excitement was great, but time was pressing. It would soon be dark and there were still two more flights to come that day. The glider was made ready for launching and at 5.58 Otto Veibel started. In the following half-hour, he also experienced gliding in all its glory, with the beautiful coast of Zealand below and the sun sinking towards the horizon, a scene that brings a feeling of silent tranquillity when gliding majestically through the air, undisturbed by a noisy engine close by. At 6.30 it was time to give an indication of landing, which took place without mishap.
I also took the opportunity to experience a real glider flight. From 6.50 until 7.20 I sailed back and forth along the coast, while the sun was sinking below the horizon and dusk slowly fell over the many summer-houses along the coast. It was an experience I shall never forget, and I hope that many of our gliding friends will be able to arrange a flight at Tisvilde beach this summer.
On behalf of all glider pilots, I would like to thank Ulrich Birch and Otto Veibel for their great selfless teamwork and camaraderie, because only that made it possible to obtain such momentous results.